To get a new look fresher and younger you can opt for some procedures like microblanding and permanent eyebrows tattoo.
The importance of anesthetic creams in the techniques used by the experts of the "aesthetic" sector to improve the image is certainly not to be underestimated. In fact, without their administration to undergo certain treatments, even if not particularly invasive, it would be very painful: practically unbearable. The effectiveness of Anestop is, therefore, to be tested in many situations. One of these concerns the techniques for defining eyebrows in a more or less lasting way, choosing between semi-permanent tattoo or microblanding, or eyebrows.
Microblanding is avant-garde and fairly recent technique that comes from the Orient and that is currently very popular in the United States. The requests in the beauty centers have increased a lot in the last year, why? Women consider very importantly the expressiveness of their face, they know that a look can release beauty and seduction.
The shape of the eyebrows plays a fundamental role in facial expressions and therefore affects our expression, consequently the harmony of our face.
From a practical point of view, the realization of semi-permanent make-up generally has advantages. First of all, it allows an aesthetic improvement of the face and the correction of small defects, such as small scars or supraciliary thinning. It is also an excellent solution for women who do not have time to make up but do not want to give up an impeccable appearance and an image always in order. Statistically, therefore, the three main reasons why more and more women decide to entrust their eyebrows to beauticians or tattoo artists are the renewal of their look, the saving of time, a perfect image in particular contexts such as gym and swimming pool.
Next to people eager to please themselves and to others, there is a large share of female audience who would like to enhance their eyes and therefore their own eyes, but who still struggle to convince themselves and then submit to these beauty treatments. Why this? The small and very thin needles that inject pigment into the epidermis are scary. Not everyone is willing to suffer. Each person's pain threshold is different. It is also true that today's tattooing and microblanding techniques are less painful than they used to be.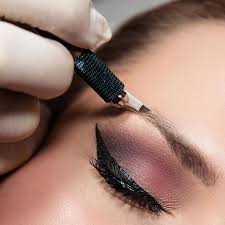 These combined with excellent anesthetic cream make the pain acceptable. On this point, referring to Anestop we can safely say that the effect of its components dexpanthenol to 8% accompanied by three natural anesthetics: ametocaine, lignocaine, propitocaine, is 100% guaranteed in terms of hydration, barrier functions, protection against irritation and indirect and anti-inflammatory action. These anaesthetics can blocking the conduction of the nervous impulse. They block the sodium channels in the nerve membrane. The pain message is not transmitted to the brain. Afterwards it eliminates the sensitivity.
Overcome the rock of pain, there is that of "forever". In reality, permanent make-up is not a definitive solution, but having an average long-term duration (from about eight months a year) it is really important that the end result is pleasing and above all perfect for facial features and proportions of every person.
Many women find difficult to get used to a new expression that makes their faces different. Often the eyebrows are clearer and darker than we are used to seeing them and this causes a sort of shock. It takes time to get used to it. Also in this regard, it is good to remember that the techniques used today usually produce very natural results. The color fades with time, because it is pigments or resorbable colors, and if the work is done by professionals with experience and study behind the result is assured!
It is therefore very important the choice of the beautician or the tattoo artist because the study of the eyebrow must follow not only visagistic rules but also a more in-depth study of the various muscles that are part of facial expressions. The work of a real professional, before injecting the color, starts with a careful eyebrow design, which must not be the same for everyone but must be made to the specific characteristics of the face that is being treated.
This ability is acquired only thanks to a lot of training, a lot of studies and continuous research. The quality of the materials is also very important, starting with the anesthetic cream, the pigments, and the tattooing or microblanding equipment.